My name is Brandon Hearn, and I am a surrealist artist currently living in Alabama. Many might ask what a surrealist artist is, they might look at my work and be confused or feel lost in understanding the purpose behind a piece or meaning that I was seeking to achieve. Well that's one way surrealism will always be forgiving, at least my take on it. The surreal is around you every day. It is a part of your lives both waking and sleeping. And that moment where dreams touch reality is what I am most inspired by in my imagery.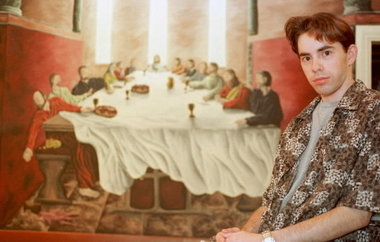 My career in art began almost before I could speak, being featured in local papers at the age of 2 or 3. I have since received an education and Bachelor's Degree in Fine Arts from the University of Montevallo, Alabama. I was born in the south and lived most of my life there until very recently, my paintings being displayed in galleries and other public spaces, as well as being featured in news and media. The surreal has been with me my entire life, through the form of dreams, nightmares, imagery that many might not recall upon waking. I've always had the skill of capturing the dream, taking it and putting it upon canvas in a way that is intended to bring about questions or interest. Each piece tells a story. Each painting has meaning, but you do not need to know the meaning on first viewing it. That is part of the experience, and my art is intended to be an experience.
A surrealist painting to me is more than an image. It can be a series of events, a story told through shapes, colors, recognizable forms and very much organic shades. I have been inspired by emotions such as fear, sadness, and envy. I have taken ideas as simple as the idea of creation or destruction and put them into organic forms as part of a never-ending series featuring human hands. I have painted dreamlike environments that in themselves tell a story not necessarily known. For these such works, you the viewer create the story. You should see what you want and that is the freedom in surrealistic art.
It exists in your mind just as much as it exists in my mind. There are no rules. There is no wrong interpretation so long as you see something on the canvas. I take reality and I twist it into something else, something outside reality. That, to me, is surrealism, and it's why I go by the name Sir Realist.
If you wish to contact the artist, please fill in the contact form below: